Mennonite corner entertainment center, Lloyd's Mennonite Furniture, Bradford Ontario Canada.
Delivering handcrafted Mennonite furniture to Ontario homes since 1984!
Handcrafted all wood Mennonite made entertainment center.

Quality hand made Mennonite Furniture, this Corner entertainment center is designed to fit snugly into corners, turning that unusable area into convenient storage and display space. 66 inches high, holds up to a 34 inch television, bi fold doors, available in pine, oak, or maple. Storage in bottom with adjustable shelf, for stereo, DVD etc.
LIFE TIME WARRANTY!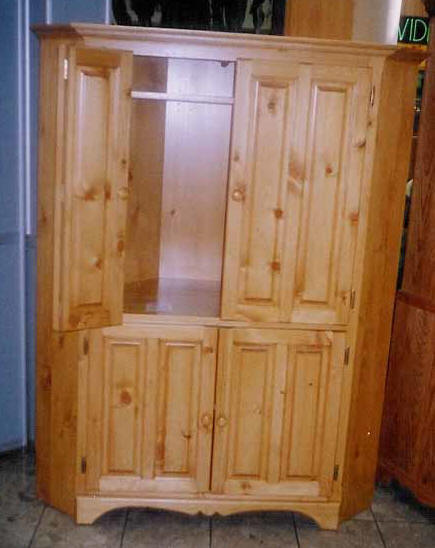 FREE Delivery! Free Set up!
With 75 KM



Click For Directions Bradford Location
Lloyd's Mennonite Furniture Ltd.
9 Holland St. E. Bradford Ontario
905-775-8031

Click For Directions Schomberg Location
1 Proctor Road, Schomberg
Hwy. 9 & Hwy. 27 SE corner
905-939-2899