Mennonite 44" Solid Oak Spindle Back Deacons bench, Lloyd's Mennonite Furniture, Bradford Ontario Canada.
Delivering handcrafted Mennonite furniture to Ontario homes since 1984!
Solid Oak Spindle Back Deacons Bench
Mennonite made solid oak spindle back deacons bench. Ideal for entranceway, seat lifts for storage in bottom, 44 inches wide.
Allow friends and family to rest on this beautiful Deacons Bench while they get ready for or return from the great outdoors.
LIFE TIME WARRANTY!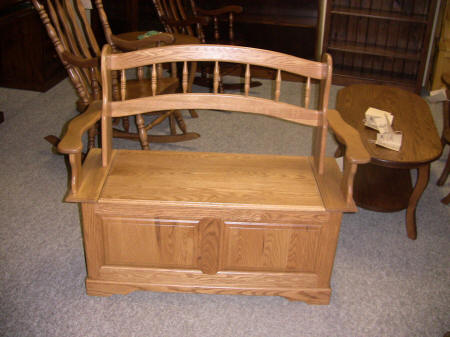 FREE Delivery! Free Set up!
With 75 KM



Click For Directions Bradford Location
Lloyd's Mennonite Furniture Ltd.
9 Holland St. E. Bradford Ontario
905-775-8031

Click For Directions Schomberg Location
1 Proctor Road, Schomberg
Hwy. 9 & Hwy. 27 SE corner
905-939-2899